Rec Director: Lindsay Larock

Email: eatoniarec@sasktel.net
Phone: 306-460-7130
Office is located in the Town Office
Hours:
Monday – Friday
9:00am – 5:00 pm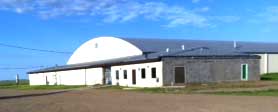 Eatonia and District Recreation Board consists of the Recreation Director, 6 volunteer board members from the community and an appointed rep from the R.M. of Chesterfield, the R.M. of Newcombe and the Eatonia Town Council. The board is responsible for operating and maintaining the recreational facilities in Eatonia which include the Eatonia Memorial Arena, Eatonia and District Swimming Pool and the Eatonia Sportsgrounds.
We strive to offer a variety of recreational activities throughout the year that are of interest to a variety of community members. Recreation is a great way to bring people together for fun, socializing and exercise.
The Recreation Board is active in raising funds to help offset the costs of operating, maintaining and upgrading our facilities. Each year we play host to a Funspiel held on our arena ice. The Funspiel is a great way to wind up the arena season all while raising funds for our facility. Every other year we plan a Sportsman Dinner and Auction that is always sure to provide you with a great meal, fantastic entertainment and a wide variety of items to bid on in the live and silent auctions.
The Recreation Board is actively involved with the Eatonia Minor Hockey Association, Eatonia Skating Club, the Arena Kitchen Committee and our local school to ensure there are plenty of activities to partake in all throughout the year.