Latest Newsletter: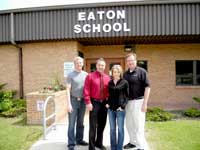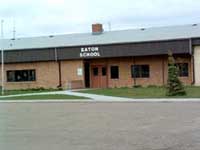 Eaton School is located in Eatonia, Saskatchewan. We are a K – 12 School within the Sun West School Division which offers a comprehensive set of course offerings, including Band, Practical & Applied Arts, and Work Experience, as well as the traditional courses. Extra-curricular activities include Spartans Football; Junior Boys' Volleyball; Junior and Senior Girls' Volleyball; Midget, Junior & Senior Basketball; Badminton; Track and Field; Cross Country Running; SWAT; Drama; Gr. 5, Junior and Concert Bands; PowerHour, SRC, SADD, and Yearbook.
School Dates 2020-2021
October
October 8 Additional Kindergarten Day
October 9 No School PD Day
October 12 No School Thanksgiving
October 15 Kindergarten Virtual Meet the Teacher Night 7:00 p.m.-8:00 p.m.
October 19 School Pictures
October 26 No School PD Day
October 29 SCC Virtual Annual General Meeting 7:00 p.m.
Novemeber
November 10 Additional Kindergarten Day
November 10 Report Cards Grades 1-12
November 11 No School Remembrance Day
November 12 No School PD Day
November 13 No School in lieu of Parent/Teacher Conferences
November 18 & 19 Student-Parent-Teacher Conferences
Decemeber
December 23–January 4 - No School Christmas Break
January
January 25-28 - Grade 9-12 Exams
January 29 - No School PD Day
February
February 1 - Semester 2 Begins
February 1 - Grade 10-12 Report Cards
February 15-19 - No School February Break
February 26 - Pink Shirt Day
March
March 1 - No School PD Day
March 9 - K-9 Repot Cards
March 19 - No School in lieu of Parent/Teacher Conferences
March 22 - No School PD Day
March 24-25 -Student-Parent-Teacher Conferences
April
April 2 - No School Good Friday
April 5 - No School Easter Monday
April 6-9 - No School Spring Break
April 21 - Grade 10-12 Report Cards
April 26 - No School Pd Day
April 28 - Secretaries & Admin. Asst. Day
May
May 10 - No School PD Day
May 24 - No School Victoria Day
June
June 25 - Last Day of Kindergarten
June 28 Last Day of School
June 29 PD Day
June 30 Grade K-12 Report Cards
June 30 PD Day