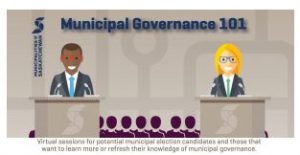 Are you running for re-election? Are you thinking of running for municipal council for the first time?
Do you just want to learn more about municipal governance?
To encourage participation in municipal governance and increase understanding of what it means to be on council, Municipalities of Saskatchewan has created Municipal Governance 101, a series of virtual sessions designed for anyone who has an interest in municipal politics or who is thinking of running for council in the upcoming municipal elections.  Visit www.munisask.ca/events to learn more and to register.